Saratoga Learning Center will be honoring Veterans by offering a 20% discount on all tutoring!
Did you know that 2 out of 3 students raise their scores when they retake the SAT ?
Help your students secure a spot at their dream school by reminding them to register for the SAT this school year.
The next SAT Exam is on March 14th, 2020. 
The next ACT Exam is on February 8th, 2020. 
Please feel free to contact us with questions and/or help!
518-450-1538
Saratoga Learning Center will be participating in Leap of Kindness Day to be celebrated on February 29, 2020.  Hosted by the Saratoga Chamber of Commerce.  Leap of Kindness Day is a chance for local businesses and organizations to give back to our community.
This year we are collecting donations of the following items in our office for the Shelters of Saratoga: Ready made meals such as can food products, microwave foods, and paper products such as plates, napkins, and coffee cups
Saratoga Learning Center is pleased to announce that Dr. Beth A. Costine-Bartell, Ph.D will be operating out of the Saratoga Learning Center's office. She will be assisting students who want to pursue medical and graduate school preparation.
Saratoga Learning Center is pleased to announce that Dr. Lenore Strocchia-Rivera is operating out of the Saratoga Learning Center's office. She is founder and director of Learning Insights.  She has over 25 years experience in the field, is a NYS licensed psychologist and permanently certified school psychologist. She is past President of the Hudson Valley Psychologist Association , Adjunct Professor at Columbia University, and the author of a book chapter on strength-based assessments.  She is also recognized by the courts as an expert witness in the area of psychological assessments
New Client Testimonial:
I wanted to share with you the results of Kaelan's Algebra II Regents from last month. He achieved an 88, increasing his score by 5 total points! He has now earned the Math Mastery seal for his diploma and has a much stronger understanding of the overall course material. We would once again like to thank you for the excellent tutoring services you provide. Your availability this summer was much appreciated!
Sincerely,
Heather and Kaelan
Believe in Yourself!
In class and in everything you do.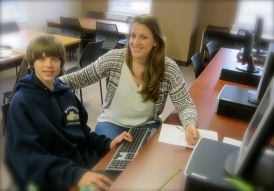 SAT and ACT classes are here!
1-1 student to teacher ratio
Schedule at students convenient time
Instruction on test skills and strategies
Unlimited timed practice tests
Qualified instructors
2019-2020 SAT and ACT test dates:
Upcoming SAT Dates: March 14, 2020, May 2, 2020, June 6, 2020, August 29, 2020
Upcoming ACT Dates: Feb 8, 2020, April 4, 2020,  June 13, 2020, July 18, 2020
Testimonials
Still can not thank you enough for your expertise and your Learning Center.  Ethan is again and again just inspired by every session he has with his tutors. Indeed he is now asking for a tutor for French.  Wondering if you can help out with that.  Just that he is asking for help is so great.

The positive experience my daughter had working with you and the tutors at the Learning center was wonderful. Michelle was able to increase her SAT scores 200 points in both reading and math. She came away from the sessions with a greater understanding of test taking strategies. I am confident that this will help her to continue to achieve all she wants when she attends SUNY Oneonta. (Her first choice of a college) Feel free to use Michelle as a reference at any time.

I really appreciated the help I received with the ACT test. I feel way more confident and was really thankful for the advice I got from the tutors. They helped me understand and interpret the material. I will definitely recommend the Learning Center to anyone needing extra help.

I thought it was very helpful and explained very well. I could tell that the tutor knew what he was doing. He made sure to ask questions and to make sure I was understanding. The tutor was also very patient when explaining an answer.

I have learned a lot of great tips from the tutors.  they have been a huge help.  I loved the practice tests, they really gave me a good insight and practice on what the actual SAT test we/ll be like.  And thanks for being so flexible!

Readily available hours, wonderful customer service; useful and informative, very helpful and specific tutoring for my specific needs.  Would recommend to anyone!

Thank you!

My tutor was the best ever! I would not have passed my math classes without her help.  She is very helpful.  Also, nice, funny and caring.  She would move her times around to fit me in and I would be very grateful for that.  I can't wait to have her help me next year!

Student

It was nice to have another person who could teach Chemistry in a different way.

Student

I just wanted to send a thank you to both of my tutors and yourself. My GRE score increased by nearly 10 points, which is incredible. I am so pleased with your tutoring service and will recommend it to anyone who may need tutoring. Thank you.

Sue, Can't thank you enough. Thanks again, you did great work and I believe all the students will benefit for it... even if they don't know it yet. Happy Holidays!

School Counselor Saratoga Springs High School

I spoke with Lou this morning and he will do an online tutoring session with Evan this evening.

On another note I wanted to mention to you that Evan's math is now 97! This has been since he's been tutoring with Lou. So without tutoring, his math average had been 70's-mid 80's. Although that might be acceptable to some, Even is capable of doing better, and he knows it. With tutoring until now it had been 90-93 average. Now with Lou it is up to a whopping 97!

Most importantly, this high math average gives Evan a tremendous amount of confidence, not only in math, but in school overall and personally. He understands the value of high honor roll grades and is striving for a high level profession. He has talked about the FBI and becoming a neurosurgeon in particular. I'm trying hard to keep him focused on these goals.

We have been very happy with Lou and SLC, and feel both are fostering a very productive environment for Evan's success.
[/vc_column][/mk_page_section]